Introduction To Abu Dhabi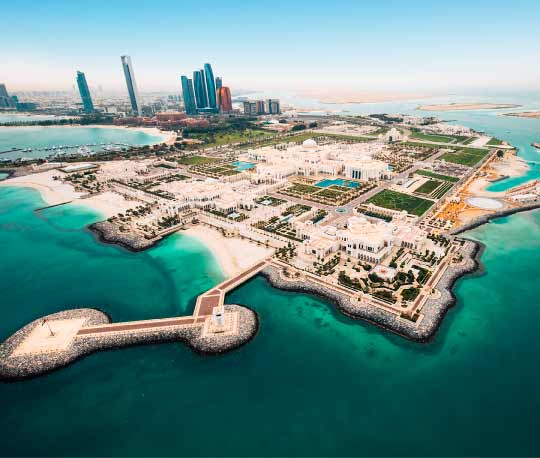 About Abu Dhabi
The United Arab Emirates (UAE) is a constitutional federation of seven Emirates located in the Middle East: Abu Dhabi, Dubai, Sharjah, Ras al Khaimah, Fujairah, Umm Al Quwain and Ajman. The UAE was founded initially with six members on 2nd December 1971 (Ras Al Khaimah joined on the 10th February 1972) and is the only federation of separate states in the Arab world.
Emirate of Abu Dhabi
Flag

Coat of Arms

Country

United Arab Emirates (UAE) The UAE is made up of seven Emirates: Abu Dhabi, Dubai, Sharjah, Ras al Khaimah, Fujairah, Umm Al Quwain and Ajman

Emirate

Capital

Abu Dhabi city is the capital of the UAE

Location

The UAE is located in Asia. Abu Dhabi is in the far west and southwest part of the United Arab Emirates (UAE) along the southern coast of the Persian Gulf

Coordinates: latitudes 22°40' and around 25° north and longitudes 51° and around 56° east

Area

Total area: 67,340 km2 (26,000 square miles)

Abu Dhabi is the largest Emirate in the UAE and accounts for 87% of the country's total landmass

Government

Type: The UAE is a constitutional federation of seven Emirates, established in December 1971.

President: His Highness Sheikh Mohamed bin Zayed al Nahyan is the President of the UAE, the Ruler of Abu Dhabi and the Supreme Commander of the UAE Armed Forces.

The UAE federal authorities comprise the UAE Supreme Council, the UAE President and Vice-President, The Cabinet, the National Federal Council, and the Federal Judiciary.

Population

For more information about the population of Abu Dhabi, please click here.

Time Zone

Official language

Arabic (official) | English (widely used)

Religion

Islam (official)

Expatriate residents practice their respective religions freely by virtue of the UAE's policy of tolerance and religious inclusion

Climate

Tropical, semi-arid climate, with hot summers, warm winters, and scarce rainfall

Temperatures range from:

winter 12°C - 26°C with low humidity

summer 35°C - 42°C with humidity between 60 and 100 percent

Working Days

Monday to Friday for government and semi-government offices, schools, and the private sector. Friday is also a half day for many businesses

Currency

The Arab Emirati Dirham (AED). Unofficial abbreviations include Dh and Dhs. The dirham is divided into 100 fils

Exchange Rate

GDP

AED 840 billion (USD 230 billion) (2022)

Airports

Abu Dhabi International Airport
Al Ain International Airport
Al Bateen Executive Airport
Delma Island Airport
Sir Bani Yas Airport

Ports

Zayed Port
Khalifa Port
Free Port
Musaffah Port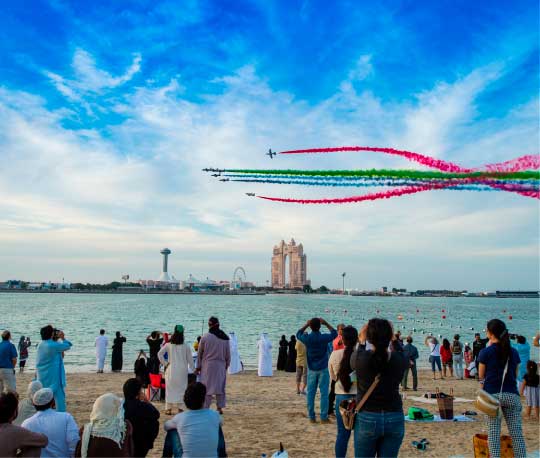 Population and demographics
Abu Dhabi is the capital city and largest Emirate in the UAE. Abu Dhabi also has the second-largest population of the seven Emirates including Emirati citizens and residents. For more information about the population and demographics of Abu Dhabi, you can click here.
Nationality
All UAE citizens in the seven Emirates carry the nationality of the UAE. The demonym is Emirati.
The UAE passport ranks on the list of the world's top 20 most powerful passports and UAE citizens can enter 175 destinations visa-free. (https://cdn.henleyglobal.com/)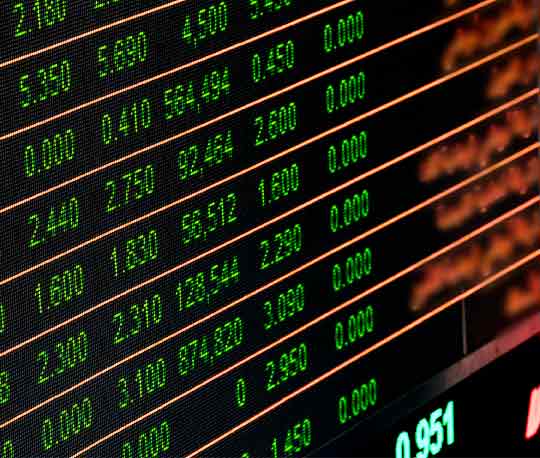 Economy
Economic profile Over the past decade, Abu Dhabi has become one of the world's fastest growing economies. Although the Emirate has the world's seventh largest oil reserves and the seventh largest natural gas reserves (www.trade.gov) it has taken significant action to diversify its energy mix and economy. Today, approximately 30 percent of the country's GDP is directly based on its oil and gas output. (for further information, read here)
GDP In 2022, Abu Dhabi's Gross Domestic Product (GDP) was worth AED 840 billion (USD 230 billion) Economic Vision 2030 Its oil sector contributed approximately 30 percent to the GDP.
Diversification Abu Dhabi's aims to stimulate non-oil sectors rather than to reduce activity in the oil sector. It has a core commitment to build a sustainable and diversified, high value-added economy by 2030 Economic Vision 2030. This will be achieved by enlarging the enterprise base and investing in sectors that show significant post oil potential including technology, health, education, tourism, renewable energy, and transportation.
In 2021, the UAE non-oil sector's contribution to GDP exceeded 72 percent. The government is investing in a series of initiatives aimed at attracting foreign businesses and investments.
Ghadan 21- Abu Dhabi's Accelerator Programme
In 2018, Abu Dhabi approved an AED 50 billion development plan for the Emirate of Abu Dhabi. The aim of Ghadan 21 is to enhance the competitiveness of Abu Dhabi, based on four main factors:
Business and investment
Society
Knowledge and innovation
Lifestyle
Read more here about Ghadan 21
Fiscal year 1st January to 31st December
Federal budget The UAE federal budget for 2022 is AED 58.931 billion (https://wam.ae/en/details/1395302980075). The largest share of the 2022 budget has been allocated to the development and social benefits sector at 41.2 percent, out of which the UAE will spend:
16.3 percent on education
6 percent on social development
8.4 percent on health
8.2 percent on pensions
2.6 percent on other services
Meanwhile, 3.8 percent of the budget has been allocated to the infrastructure and financial resources sector.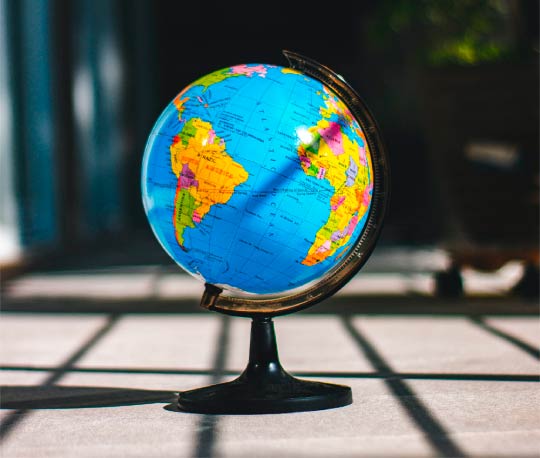 International Relations
Foreign policy
"The foreign policy of the UAE aims to support legitimate Arab and Islamic issues and interests and strengthen friendship and collaboration with all other countries, based on UN Conventions and internationally recognised morals and ethics. Our young country has achieved tremendous success on the international level, thanks to the noble and progressive principles our country has built. Our policy is based on the principles of legitimate rights, justice and peace, and is driven by our faith that peace is an urgent need for humanity." The late Sheikh Zayed bin Sultan Al Nahyan, the Founding Father of the UAE. (www.mofaic.gov.ae)
The ideologies guiding UAE foreign policy were expressed by the country's first President, the late Sheikh Zayed bin Sultan Al Nahyan. Sheikh Zayed's principles included an underlying belief in justice in international dealings between nations, and the pursuit of peaceful resolutions of disputes, with strong support for international institutions, such as the United Nations (UN).
Abu Dhabi is a leading player in the global campaign against human trafficking, terrorism and in upholding human rights.
United Nations
Since it was founded in 1971, the UAE has been a member of the UN. Today, there are around 350 UN personnel in the UAE, supporting over 60 United Nations programmes and projects in the country from 13 office locations. Another nine UN entities engage with the UAE through their regional presence and headquarters including UN Women, which are responsible for promoting women's empowerment and gender equality, and the United Nations High Commissioner for Refugees (UNHCR). Both are based in Abu Dhabi (www.unitedarabemirates.un.org/en)
Abu Dhabi and the United Nations work together through a set of programmes and initiatives under the umbrella of global humanitarian aid, peace and security, climate and biodiversity, partnerships for a better world, global participation, and other national and global priorities.
Abu Dhabi and the UN
UN Security Council
In January 2022, The United Arab Emirates' mission to the UN won, for the second time in its history, a non-permanent seat in the UN Security Council for the period 2022-2023.(https://uaeun.org/press_release)
UN's Human Rights Council
Continuing its efforts to promote and protect human rights on national, regional, and international levels, the UAE was elected to the UN's Human Rights Council for the third time. It will serve a three-year term on the council from 2022 to 2024. (https://www.mofaic.gov.ae/en/mediahub/news/14-10-2021-uae-rights)
UNESCO Diversity Committee
Abu Dhabi has put in place legal frameworks that enable all to live and thrive in an environment that fosters diversity. In recognition of these principles, the UAE was awarded a seat on the United Nations' Intergovernmental Committee for Protection and Promotion of Diversity of Cultural Expressions. The country's membership will run until 2025. (https://opcd.ae/uae-awarded-seat-unesco-diversity-committee/)
Other international organisations
As well as the UN and its agencies, the UAE is a member of the Gulf Cooperation Council (GCC), the International Monetary Fund (IMF), the Arab League, the Organisation of Islamic Cooperation, the Organisation of the Petroleum Exporting Countries, the Non-Aligned Movement, and the World Trade Organisation (WTO).
Human rights
Abu Dhabi follows the principles of justice and equality, respect for human rights, humanitarian aid and relief action in line with the principles of the Universal Declaration of Human Rights.
Human rights are guaranteed by the UAE Constitution and all people, irrespective of their race, nationality, religion, and social position, are equal before the law. In 2021, the UAE government established the National Human Rights Institution in the UAE. For further information, Read here
Embassies and consulates
The UAE has maintained constructive diplomatic relations with over 200 countries around the world. The UAE maintains 100 embassies abroad as well as 22 consulates and one other representation.
There are currently 127 embassies in Abu Dhabi plus three representative offices (www.embassypages.com).
Foreign Aid
"Foreign aid and assistance is one of the basic pillars of our foreign policy. For we believe that there is no true benefit for us from the wealth that we have unless it does not also reach those in need, wherever they may be, and regardless of their nationality or beliefs."Founder and former President of the United Arab Emirates, the late Sheikh Zayed bin Sultan Al Nahyan.
The purpose of UAE aid is to reduce poverty, promote peace and prosperity, and foster bilateral economic relations through expanding trade and investment ties with developing countries.(https://www.mofaic.gov.ae/-/media/) Since its founding, Abu Dhabi has provided significant aid to developing countries and has been a major contributor of emergency relief to regions affected by conflict and natural disasters.
In 2018, the UAE was named the world's largest humanitarian donor for the fifth consecutive year having aided more than more than 175 countries.
The UAE exceeded the United Nations' target of 0.7% official development assistance in proportion to its Gross National Income (GNI) ratio by donating AED19.32 billion, a growth of 18.1 % over 2016, representing 1.31 percent of its GNI for official development assistance in 2017. (https://www.mofaic.gov.ae/en/Annual-Foreign-Aid-Report)
In 2020, the UAE provided more than 1,860 tonnes of medical supplies and personal protection kits, amounting to AED 1.29 billion (USD 351.3 million) to 128 countries worldwide as a contribution towards the global fight against COVID-19.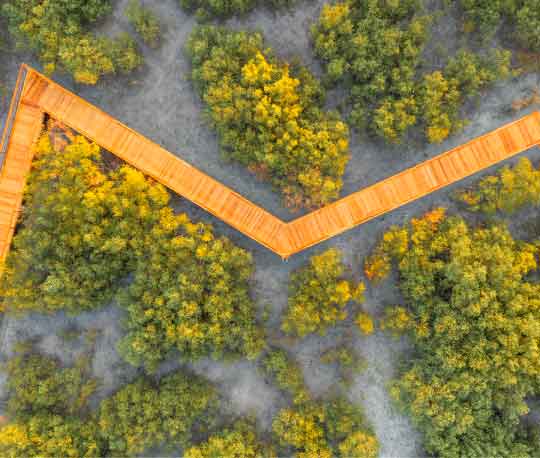 Environment And Sustainability
Abu Dhabi is a champion of renewable energy and decarbonization efforts. To date, the UAE has invested in renewable energy ventures; a total of USD 17 billion across the globe (https://www.uae-embassy.org/sites/default/files/Paper_05-11-22_0.pdf) Abu Dhabi is focused on building resilient pathways for new industries, new jobs, and long-term sustainable economic growth in line with the United Nations' Sustainable Development Goals (SDGs).
Abu Dhabi Hydrogen Alliance
In January 2021, the UAE launched the Abu Dhabi Hydrogen Alliance, which aims to advance low-carbon green and blue hydrogen in emerging international markets and help build a substantial hydrogen economy in the UAE. The Abu Dhabi Hydrogen Alliance aligns with the UAE's greater Hydrogen Leadership Roadmap, a national blueprint to support domestic, low-carbon industries. (https://wam.ae/en/details/1395302902000)
Environment Vision 2030
Abu Dhabi developed its Environment Vision 2030 (https://www.ead.gov.ae/) to ensure integration among the three pillars of sustainability: environmental, economic and social prosperity. It aims to preserve and enhance Abu Dhabi's natural heritage in the efficient use of resources, contributing to a better quality of life for all.
Environment Vision 2030 identifies the following five priority areas:
Climate change - minimising the impact of climate change
Clean air and noise pollution - contributing to safe and healthy living conditions
Water resources - efficient management and conservation of water resources
Biodiversity, habitats, and cultural heritage - preservation for current and future generations
Waste management - value creation through optimised material flows and waste management
For further information, read
For additional information on Industry Sectors, see here
MASDAR
The Abu Dhabi Future Energy Company (MASDAR), owned by the Abu Dhabi government's Mubadala Investment Company, develops and finances greenfield renewable energy projects in UAE and abroad. (https://masdar.ae/) Masdar also hosts the UN's International Renewable Energy Agency (IRENA) headquarters. (https://www.irena.org/)
Abu Dhabi Sustainability Week
The Abu Dhabi Sustainability Week (ADSW) is a global platform to share knowledge, showcase innovation and outline strategies focused on climate change and sustainable development. (https://abudhabisustainabilityweek.com/)
Other sustainable initiatives
In 2015, the UAE was among the first countries in the Gulf region to ratify the Paris Climate Agreement, which seeks to limit the global temperature rise to 1.5 degrees Celsius above pre-industrial levels by 2030.
The country is also preparing to host the 28th session of the Conference of the Parties (COP28) in 2023, which will help draft an approach for promoting collective climate action.
The UAE launched the Net Zero by 2050 strategic initiative, becoming the ­first country in the MENA region to pledge to reach net zero emissions by 2050.
Tourism
Abu Dhabi has a variety of natural, cultural, heritage, and religious places. In addition to the UNESCO World Heritage Lists' ancient monuments and archaeological sites, the Emirate also has a glittering array of world-leading man-made attractions.
The tourism industry in Abu Dhabi has established itself as a major pillar of economic diversification. It has been predicted that the travel and tourism industry will contribute around AED 280 billion to the UAE's GDP by 2028. (https://www.statista.com/topics/tourism-industry-of-the-uae/)
The growth trajectory and potential of the Emirate's travel and tourism sector can be seen in the increase in international visitors. In 2018, the UAE was the most competitive travel and tourism destination in the MENA region according to the Travel and Tourism Competitiveness Index.
(https://www.statista.com/statistics/186669/) In 2019, the number of passenger arrivals at the Abu Dhabi International Airport was approximately 10.6 million people. By 2026, the number of international tourists visiting the UAE will hit 30.94 million and they are expected to spend AED167.7 billion (USD 45.66 billion).

The growth of the travel and tourism industry generates more job opportunities, benefitting hotels, travel agents, airlines, restaurants, and leisure industries. Currently, the sector directly supports around 318,000 jobs in the UAE which represents 5.4 per cent of total employment. This is expected to rise by 2.4 per cent per annum to 410,000 by 2027.(https://u.ae/en/information-and-services/travel-and-tourism)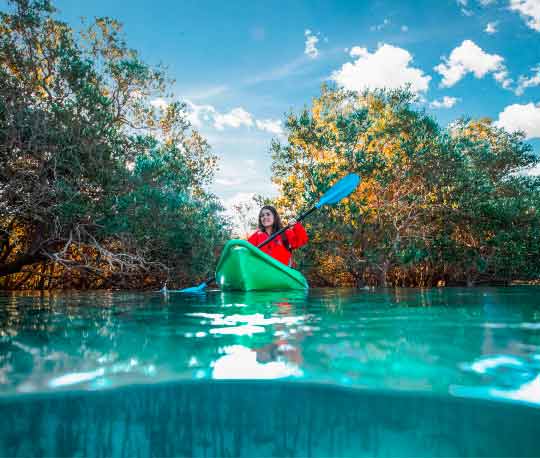 Climate
Abu Dhabi has a hot desert climate. The Emirate boasts sunny days with blue skies almost all year round. It has between eight to eleven hours of sunshine per day and the sea in the Emirates is warm enough for swimming twelve months of the year.
The cooler winter season is from November to March, which ranges from moderately hot to mild. Rainfall is infrequent and irregular, falling mainly in winter. This period also sees dense fog during some mornings, however by mid-morning the sun invariably burns the cloud away. Temperatures range from a pleasant 12 °C to 26 °C (53 °F to 79 °F).
The summer months of June through September are generally extremely hot and humid with maximum temperatures averaging from 35 °C to 42 °C (95 °F to 107 °F). During this time, sandstorms can occur intermittently.
On average, January is the coldest month of the year, while August is the hottest.