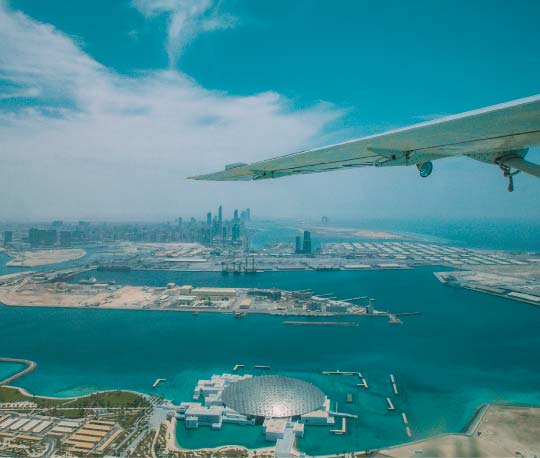 Abu Dhabi is the capital of the United Arab Emirates (UAE). The largest of the seven Emirates, the Emirate of Abu Dhabi shares its border with the Kingdom of Saudi Arabia, the Sultanate of Oman, and the Arabian Gulf. Its total area is 67,340 km2 (26,000 square miles) and accounts for 87 percent of the UAE's total landmass. It also surrounds half of Dubai and has a short frontier with Sharjah.
Geography
Abu Dhabi is an archipelago of over 200 islands, with a coastline that spans about 700 kilometres. The coastline has many areas of sabkha (salt flats), stretches of gravel plain and vast areas of desert. The majestic Hajar mountains rise in the Musandam Peninsula to the north, run through the east of the UAE, and flow into Oman, forming the backbone of the country.
Abu Dhabi and Surrounding Area
Abu Dhabi is made up of three main regions:
Abu Dhabi city and its surrounds
Al Ain, to the east
Al Dhafra, to the west
The city of Abu Dhabi is located on an island that is surrounded by the Arabian Gulf. The epitome of cutting-edge modernity, tall skyscrapers, luxury international hotels, shopping malls and cultural and tourist destinations dominate the skyline. It is a stark contrast to just 50 years ago, when the emirate was little more than an empty desert inhabited by Bedouin tribes.

The city of Abu Dhabi is connected to the mainland by four bridges: Maqta bridge, Mussafah bridge, Sheikh Zayed bridge and Sheikh Khalifa bridge which connects Abu Dhabi to Saadiyat Island.

A 90-minute drive from Abu Dhabi, Al Ain lies to the east on the border with Oman. Known as the Garden City, it is one of the world's oldest permanently inhabited settlements and a UNESCO World Heritage Site. An oasis town, it is rich in history with ancient forts, old souks, archaeological parks, and museums.

Much of the emirate of Abu Dhabi forms part of the Rub Al Khali, or Empty Quarter in Al Dhafra, located in the west part of the emirate. Crossing borders into four countries: Saudi Arabia, Yemen, Oman, and the United Arab Emirates, it is a desert second in size only to the Sahara and is the world's largest uninterrupted sand mass. A protected natural reserve, it is a two-hour drive from central Abu Dhabi to the most accessible frontier of the Empty Quarter; Liwa Oasis.

The Empty Quarter's fine golden and red sands are a popular tourist destination, as it is home to one of the world's tallest sand dunes, Tel Moreeb, "Terrifying Mountain" in Arabic. Over 300 metres high and boasting a 50° incline, it is popular with 4x4 enthusiasts and experienced bikers who take part in annual hill climbing competitions.