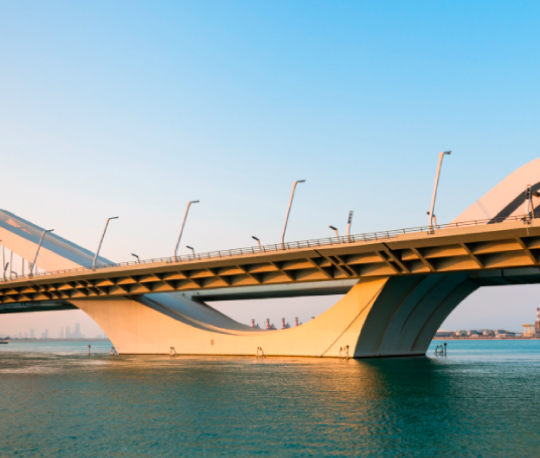 Abu Dhabi is the largest of the seven Emirates with a mainland and communities that extend beyond the city limits. It is a relatively uncongested city to drive around and most parts of the city take 20-30 minutes to get to. It can take up to 2 hours to drive from central Abu Dhabi to Al Ain or if you are going further afield to the Al Dhafra region in the emirate. Thanks to its progressive and robust transportation system, managed by the Integrated Transport Centre (ITC), every part of Abu Dhabi is accessible.
ITC has added a technological twist to bus schedules with DARBI, an interactive map that will provide you with all the information you need to set up your itinerary whether travelling by air, land or sea, throughout the emirate of Abu Dhabi. The AI powered map can be downloaded from The App Store and Google Play.
Buses

The Abu Dhabi bus network is designed to connect the urban areas of the Emirate and to make it easier for all passengers to reach their destination. A variety of routes are offered daily and all buses are air conditioned making trips enjoyable. Bus fare is tendered using Hafilat cards, which are loaded at ticket vending machines located at all branches of Lulu Hypermarket. The price of the card is AED 10 and they are valid for five years. You can purchase passes for your Hafilat card based on your budget and travel needs. A weekly pass is AED 30, monthly pass is AED 80 and an annual pass is AED 500. Free annual passes are distributed to senior citizens and People of Determination.

Public buses trips fares:

Local trips (inside the city): AED 2

Regional trips (suburbs): AED 2 + AED 0.05 per kilometre.

Inter-city trips: AED 10 + AED 0.1 per kilometre

Abu Dhabi Link

Abu Dhabi Link is an on-demand bus service provided by the Integrated Transport Centre to enhance the user experience with a corner-to-corner service. You book an on-demand bus ride using an app available in both the Apple Store and Google Play. The service operates within Yas Island, Saadiyat Island, Al Shahama, old Al Bahyah, Al Rahbah, Al Samha and part of Al Sader. It costs AED 2 to board in Al Shahama and operates daily from 6 am to 11 pm.

Dubai to Abu Dhabi Routes

Dubai's Roads and Transport Authority (RTA) operates two bus routes between Dubai and Abu Dhabi; E100, which goes from Al Ghubaiba, near Dubai Creek, to Abu Dhabi's central bus station and E101 service which goes from Ibn Battuta (near Jebel Ali) to Abu Dhabi.

Taxis

Taxis are readily available in Abu Dhabi and fairly inexpensive. Taxis can be hailed from roadside or booked in advance through the Abu Dhabi Taxi app available in both the App Store and Google Play or by calling TransAD on 600 53 53 53. There are also special taxis available upon request for women, children, families and People of Determination. In Abu Dhabi, the daytime starting fare for a regular taxi is AED 12. Fares can be paid using cash or through the app using your debit or credit card. Premium taxi services such as Uber and Careem are also available in Abu Dhabi.

Ferry

ITC operates many passenger and vehicle ferry services between Dalma and Jebel Al Dhanna port in Al Dhafra region and between Al Aliah and Saadiyat Islands. The fare is AED 100 for a vehicle, AED 20 for adults and children over 12 years old. Children under 12 years old ride free. The full ferry schedule is located on the ITC website.

Getting a Driver's Licence

Learning how to get around on your own can be quite rewarding. Emirates Driving Company is the leading authority for driver training and road safety in Abu Dhabi. People who are medically fit and above the legal age requirement can obtain a UAE Driver's licence:

17 years for motorcycles and for vehicles for people with special needs
18 years for cars and light vehicles
20 years for heavy vehicles and tractors
21 years for buses

Required documents:

Documents required to open a traffic file include:

Copy of passport and residence visa page
Copy and original Emirates ID card
2 photographs
Eye test report
No objection letter from the sponsor (if required by the related traffic department).

Procedures followed to learn car driving includes:

Opening a traffic file in one of the registered driving centres in the related emirate
Conducting an eye test at any centre approved by the traffic department
Completing all required driving classes
Passing all tests set by the related traffic department
Obtaining the driving licence from the traffic authority

Citizens of certain countries can convert their driving license issued in their home country to a UAE license without having to take a driving test.

Visit the Abu Dhabi Police website to find out more about converting a foreign driving license into an Abu Dhabi issued driving license.

You can carpool legally only after registering with local transport authorities. To carpool in Abu Dhabi, register with the Department of Transport for their Darb programme. Unauthorised carpooling could attract heavy fines.

The Future of Transport in Abu Dhabi

Abu Dhabi's Department of Transport, under its initiative, the Surface Transport Master Plan (STMP), is studying the possibility of implementing a metro system in Abu Dhabi. When implemented, Abu Dhabi metro will span 131 km and provide optimal connectivity between Abu Dhabi island and its surrounding areas, namely Saadiyat island, Yas island and Al Raha Beach.
More About Living In Abu Dhabi