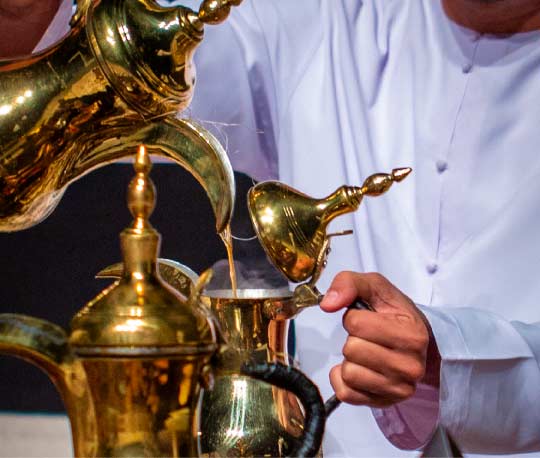 Language
Arabic is the official language of the UAE but many languages are spoken within the Emirates. The past few decades have witnessed explosive growth in the number of people choosing to travel, work and live overseas. UAE has one of the most diverse populations in the world with more than 200 nationalities living and working in the Emirates. The wide range of languages gives rise to Abu Dhabi's credentials as an international, multilingual business base that celebrates all nationalities and cultures.
English is the most widely spoken language in Abu Dhabi especially for business, trade, and tourism. In the UAE courts, the other five official languages are Chinese, English, French, Hindi and Russian. All road and traffic signs, and signs on commercial outlets are in Arabic and English.
Culture And Traditions
The UAE's culture is strongly intertwined with the Islamic traditions of Arabia and is an integral part of the artistic, social, and cultural life of the Emiratis. The Emirate's heritage rests on hospitality, inclusivity, family values and solidarity among members of the community.
Although the city has changed dramatically over the last few decades, the people of Abu Dhabi still uphold old customs and continue to promote their culture. Traditions are kept alive by various organisations, enthusiastically showcasing historical and cultural events that represent its past. Sports include falconry, camel and horse racing, and cultural activities include Arabic poetry, traditional crafts, dances, and music.
The importance of being hospitable is rooted in Bedouin tradition when tribes travelled through the desert. Hosting guests was an opportunity to demonstrate social status and was a sign of warmth and generosity. The friendliness and significance of being welcoming are very much a part of the Abu Dhabi lifestyle today. For further information, Read more
Past and Present
Abu Dhabi is known as a culture-rich city, celebrating its unique past whilst looking forward to its innovative future. It is home to several UNESCO World Heritage Sites, historic monuments and mosques, unique buildings, traditional souks, oases, and natural heritage. Today, Abu Dhabi is a leading global arts and cultural hub, with an abundance of museums, galleries, and a thriving contemporary music scene. The city has recently been designated as a City of Music by the UNESCO Creative City Network. A programme launched by the UN agency to promote cooperation among cities recognised as cultural hubs regionally and internationally.
Religion
Islam is the official religion of the UAE.
Expatriate residents practice their respective religions freely by virtue of the UAE's policy of tolerance and religious inclusion.
Abu Dhabi encourages religious pluralism, promotes interfaith dialogue, and supports religious freedom. There are more than 40 churches across the UAE (17 in Abu Dhabi and Al Ain), two Hindu temples, a Jewish synagogue, a Sikh temple, and a Buddhist monastery.
In June 2016, the UAE government introduced the National Tolerance Programme to support the values of tolerance and co-existence and to reject discrimination in all its forms.
The new Abrahamic Family House on Saadiyat Island, brings together a mosque, church, and synagogue in one setting. Set to open this year, it will be a place for religious tolerance and education, bringing faiths together and promoting unity and inclusion. Read more
People Of Determination
Abu Dhabi promotes the rights of persons with disabilities through its national policies and strategies, as part of promoting and protecting human rights that guarantee a high quality of life for all. In the UAE, persons with disabilities are referred to as "people of determination" in recognition of their achievements across different fields. Read more
In November 2006, the UAE signed the United Nations Convention on the Rights of Persons with Disabilities (https://www.un.org/convention-on-the-rights-of-persons-with-disabilities.html) This is to ensure that people of different abilities have an equal opportunity to participate fully in society.