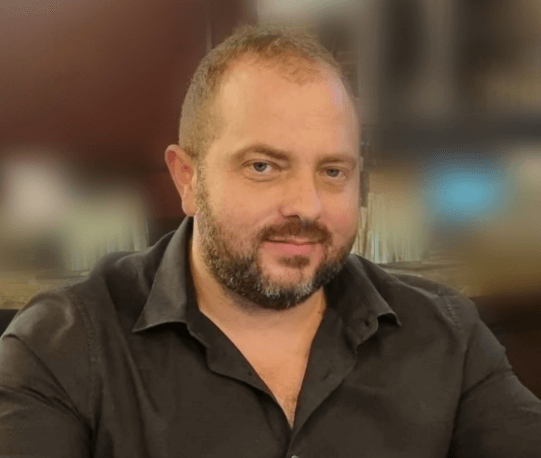 Teacher and Bar Manager at The Irish Vickers
One of the great aspects about Abu Dhabi is you can come here with one career and then change over because there are plenty of opportunities across different fields for everyone.
Abu Dhabi has long been a destination where expats have flocked in search of a better lifestyle, work/life balance as well as the potential for career growth.
Long-term resident Trevor Buckley arrived in the capital of the UAE back in 2005. Having graduated with a linguistics degree back home in Ireland, he decided to take a year's break and come to Abu Dhabi to take up a teaching post.
"When I graduated, I was looking for job opportunities. At the time, there weren't many job opportunities in Ireland so I decided to take a year's break and come to Abu Dhabi. I was based in Ruwais, a town in the emirate which is 250km away from Abu Dhabi. I worked with The International School of Choueifat for two years before making the move to the Capital where I have been based ever since."
One year has turned into 17 and Trevor says for many expats particularly those coming over to work in schools and teach, the lifestyle and the package on offer is very attractive for those looking to experience something new.
"The main attraction for teachers here is the lifestyle. The package for a teacher in Abu Dhabi generally includes housing, one flight per year and a tax-free salary which is very competitive. On top of that, expats here have health insurance and top-class hospitals should you require any medical treatment."
A member of the burgeoning Irish community in the city and indeed the UAE, Trevor is the chairman of Abu Dhabi Na Fianna GAA Club that is based at Zayed Sports City. He credits getting involved with the club as one of the best places to meet new people and would advise anyone moving to Abu Dhabi to join a club or society.
"When I first started playing football with Na Fianna, there were only around 50 members. That community has now expanded to 450 adult members and 60 junior members. There is a huge Irish community in the UAE where there are some 12,000 expatriates. Getting involved with Na Fianna was a great way for me to meet new people and make new contacts. Joining a club or a society is the way to build your social group. There is a healthy social scene in Abu Dhabi especially at the weekends so you have to get out and about it. There is plenty for everyone here in Abu Dhabi
Known as a place to improve career prospects, Abu Dhabi also offers many expats a chance to alter their career paths entirely. At the beginning of 2022, after 17 years of teaching, Trevor decided to move into hospitality and become a bar manager at the recently opened The Irish Vickers.
"It is a big jump to go from teaching to hospitality. I got a flavour of being involved with Abu Dhabi Na Fianna and organising events and functions in different hotels. I realised I really liked it and it was something I was very passionate about so I was looking for an opportunity to get into the industry and fortunately, an offer presented itself. And that is one of the great aspects about Abu Dhabi, where you can come here with one career and then change over because there are plenty of opportunities across different fields for everyone."