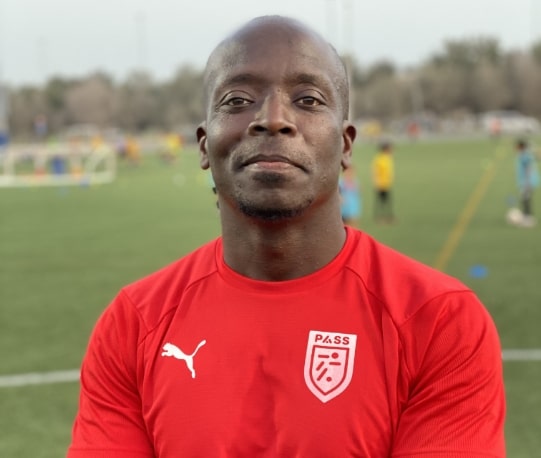 Founder of PASS Abu Dhabi
One of the reasons Abu Dhabi is so special is the sense of togetherness and community. As someone who thrives on this feeling of togetherness, Abu Dhabi is perfect for me and my family.
"I came to Abu Dhabi in the summer of 2009 to work as a teacher. I will always remember the gust of hot air that hit my face upon disembarking from the airport," says Seth Amoafo.
After earning qualifications in law and teaching in the UK, the Ghanaian made the move to the emirate 13 years ago, taking up a teaching post in the city.
"I had been looking for teacher jobs abroad. I visited the Emirate around June that year and instantly fell in love with the place. I liked the fact that it was quiet, humble and normal but still promised a higher quality of life than where I was living at the time in England.
"During my job search I received a call from a teacher recruitment agency in Abu Dhabi. I received the call on Friday, attended the interview on Saturday and was offered a contract straight after the interview and signed straight away such was and is the demand and opportunities for those wishing to teach here."
Having worked in the public school system in Abu Dhabi for seven years including five years at Al Jazira Academy, Seth, a UEFA accredited football coach who has previously worked on a number of Chelsea Football Club community projects, also pursued his passion of football coaching in his spare time, forming PASS Abu Dhabi in 2012.
It was a decision that would eventually see him swap the whiteboard for the whistle as he decided to focus solely on the business.
"During my whole time in Abu Dhabi, I was also pursuing my passion of football coaching as a hobby while teaching, supporting initiatives like the Manchester United Soccer Schools programme, eventually starting my own operation in 2012, called ProActive Soccer School (PASS Abu Dhabi). What began as a hobby to continue my purpose of making an impact on the lives of young children ended up being a business and in 2019, I decided to focus fully on the business to try to have an even greater impact.
"So officially, I am the founder and CEO of PASS Abu Dhabi, but in reality, my profession is helping young people develop strong values through sport. PASS is now truly established in Abu Dhabi and I am thankful for the opportunities we've been given."
The father of two children highlights Abu Dhabi's unique combination of a major international hub for expats with the sense of community of a small town as a key factor as to why he and his family adore the city.
"Abu Dhabi is truly a special place to be and one of the major reasons for this is the sense of togetherness and community in spite of its size. As someone who thrives on that togetherness feel, Abu Dhabi is perfect for me and my family. My children, who were both born here, are able to mix with others from different cultures, backgrounds and nationalities on a daily basis at school and at clubs and there is a real supportive network here where people will always go above and beyond for you if needed.
"We feel so safe and secure here. My wife can confidently go for a walk or run at 9pm and all she has to worry about is if she has enough water. You can't put a price on that peace of mind."