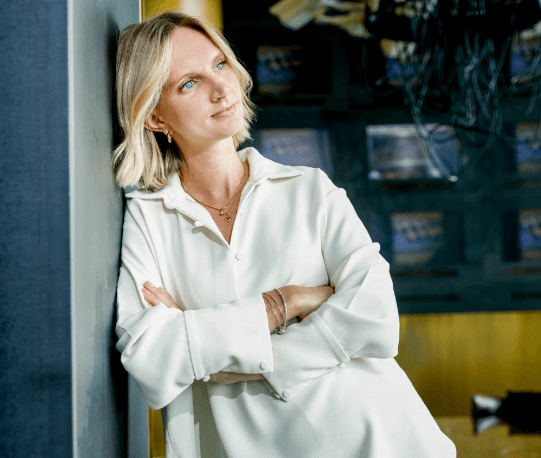 Marketing Manager at W Abu Dhabi – Yas Island
The demanding environment definitely makes you a better professional. You have to elevate yourself, elevate your own skills and knowledge to become a better worker.
From lying under the sun on pristine beaches to enjoying a dinner in some of the finest restaurants in the region, there are plenty of reasons why so many expats from all over the world are attracted to the lifestyle that Abu Dhabi provides.
However, the city offers many expats career development opportunities that simply do not exist in their home countries. For the well travelled Rebecca Renée, the prospect of employment and future career growth was the major reason behind her move to the capital.
"I came to Abu Dhabi thanks to a previous connection that I had made in Dubai. I was studying hotel management in the Netherlands and as part of the curriculum, you had to complete a management internship at a hotel. In March 2019, I was offered a position at a hotel in Dubai as a social media intern. My Sales and Marketing Director then moved to W Abu Dhabi – Yas Island and reached out to me when a position became available in that hotel which I grabbed with both hands. Now I am a Marketing Manager of the same property."
Abu Dhabi has some of the best hotels in the world and when you're working at one of the biggest in the city that is located in the heart of the capital's premier lifestyle and entertainment destination, Yas Island, expectations on performance and results are very high. However, Rebecca says the competitive environment that Abu Dhabi creates across a number of business sectors, not only hospitality, drives individuals to work harder and reach higher standards.
"The market is very competitive in Abu Dhabi. There are a lot of events happening at the same time so the work environment is always 110 percent and the expectations are always increasing. However, the demanding environment definitely makes you a better professional. You have to elevate yourself, elevate your own skills and knowledge to become a better worker."
Originally from Sweden, Rebecca contends that having the opportunity to socialise and work with people from different backgrounds helps you grow as a person both professionally but more importantly, personally.
"There is no doubt that I have benefitted from moving to Abu Dhabi. I believe I have really grown both personally and professionally. I think if I stayed in Europe or Sweden, I wouldn't have been the same person today, far from it. If I stayed in Sweden I would have met with the same minded people, professionally, personally and culturally. Here it is a melting pot of cultures where you can experience new food, new languages and new outlooks on life."
And while Abu Dhabi has a culture of working hard, Rebecca says the city's residents and expats do not forget to play hard with plenty of places to enjoy oneself including delicious restaurants and some of the most beautiful beaches in the world.
"Masha Al Saadiyat is one of my favourite places in the city with the beautiful Soul Beach. The strip is lined with so many restaurants that serve cuisine from all over the globe. The area is also growing with so many more projects planned. Al Bateen is also a great location where you can go for a relaxing walk around the marina or pop in for lunch or a coffee. There are plenty of places to visit if you are a foodie. You can also go to Al Ain or visit the salt lakes. There really is so much to see in Abu Dhabi.
"But if you are having a hectic or stressful day at work, Abu Dhabi also offers places of seclusion and peace where you can switch off or calm down very quickly, something that we all need to do from time to time."