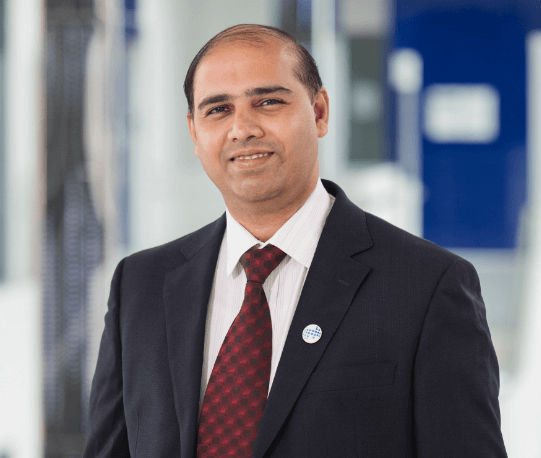 Associate Professor at Mohamed bin Zayed University of Artificial Intelligence
"The leaders of Abu Dhabi want MBZUAI and the city to be the center of all things related to AI which is one of the most futuristic technologies and that is very exciting"
Abu Dhabi is a city of the future. From sky-scraping buildings, a high-tech metropolis known as Masdar City, environmental strategies to combat climate change and a soon to be launched national railway network through the heart of the desert and the emirate, Abu Dhabi is at the forefront of innovation, growth, and vision.
Mohamed bin Zayed University of Artificial Intelligence (MBZUAI) is yet another example of how Abu Dhabi is paving the way to a brighter future. A Higher Education institution that is solely dedicated to artificial intelligence (AI), MBZUAI is attracting some of the best minds in the industry to educate the AI scientists and engineers of tomorrow.
One of these minds is Dr Karthik Nandakumar. Working as an Associate Professor , Dr Karthik, who has a PhD in AI and was previously based in Singapore before he came to the city, says Abu Dhabi is fast becoming the global center of AI learning and technologies.
"MBZUAI is a fantastic facility for one to further their understanding about AI. It is one of the world's first universities dedicated to pursuing AI when it opened and motivated me to come to Abu Dhabi.
"The leaders of Abu Dhabi want MBZUAI and the city to be at the center of an AI ecosystem, and that is a very exciting notion. With that vision, they started this university two years ago and we are growing at a rapid pace."
A graduate university, MBZUAI's population is made up of Masters and PhD students from around the world who hold degrees in Computer Science and Engineering. Dr Karthik says the curriculum offers students the chance to engage in groundbreaking research as well as providing them support to present and publish their own findings.
"Typically, our students will come from computer science or electrical engineering backgrounds. But we have students from other educational backgrounds such as those who studied maths, physics or mechanical engineering."
"MBZUAI is a research university where all students will have to do their own research, publish in journals, present at conferences, and write a thesis on a specific topic. We are doing a lot of research in AI which is having a lot of impact around the world.
"This field is rapidly changing and in the two years I have been working at MBZUAI, the place has transformed.
The attraction of working at one of the most advanced and unique universities in the world was the main driving force behind Dr Karthik's relocation to Abu Dhabi. However, whenever he finds himself out of the lab, he says the city's atmosphere, leisure activities and welcoming people have really enabled his family to settle very quickly and removed any misconceptions he had about Abu Dhabi before arriving.
"I had not planned to come to the Middle East region, so my initial view was that Abu Dhabi was a very conservative place with very strict cultural traditions. But after I landed here, I noticed that this is a very cosmopolitan place. This city is no different to any other modern city. You have people from all over the world living here which really surprised me. Whenever you go to malls, they have the same shops and same brands as they do in New York and Singapore and the people are very friendly so that gave me confidence and reassurance when I first moved.
"I also have a better work/life balance here. I am discovering new things about Abu Dhabi every day. We are in the desert but there are superb hidden natural areas; the mangrove forest, for example, in the middle of the city is very beautiful. It is not a desert, both literally and figuratively, and the level of development in this place makes it a very exciting place to come to."