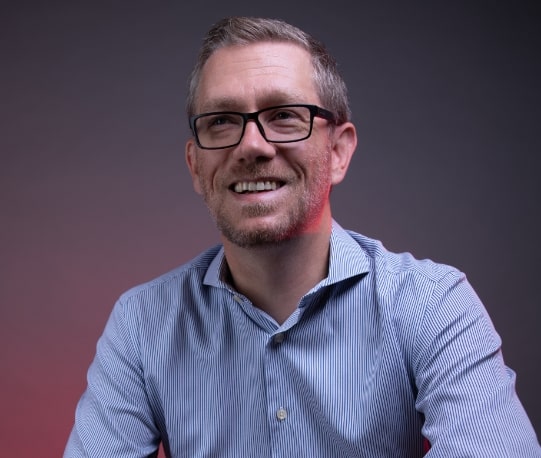 Director of Marketing & Audience Engagement at The Arts Center at NYU Abu Dhabi
I think the cultural diversity of this city really comes to life on the stage.
Clive Primrose and his family made the move to Abu Dhabi five years ago when he obtained the position of Director of Marketing & Audience Engagement at The Arts Center at NYU Abu Dhabi. Originally from South Africa, Clive moved to the UAE in 2008 where he worked for eight years in Dubai at an advertising agency.
Despite having an unwarranted reputation of being a quieter city in terms of entertainment, Clive says Abu Dhabi is anything but quiet.
"I think sometimes there is a real misconception that there isn't much to do and that there isn't a performing arts scene here; but there really is. There might not be a district where the arts scene has its base and where everyone can congregate like there is in New York or London but Abu Dhabi has so much to offer in terms of exhibitions and live performances.
"Louvre Abu Dhabi holds various performances throughout the year in its gorgeous theatre as well as showcasing some of the most amazing and interesting galleries and works in its museum. Manarat Al Saadiyat hosts many exhibitions and events including Abu Dhabi Art and also has a thriving cinema scene where you can watch old-time classics and the latest indie releases. There is also the Cultural Foundation and Abu Dhabi Music and Arts Festival who put on performances at Emirates Palace, from ballet to dance and poetry, many with a distinct Arabic and Emirati flavour. The Arts Center at NYU Abu Dhabi also presents around 20 different performances a year across music, theatre, dance and poetry.
"There is so much to experience and what I truly love about Abu Dhabi is the diverse cultures that are presented on the stages here. I think the cultural diversity of this city really comes to life on the stage."
The arts scene is certainly thriving in Abu Dhabi but if admiring stunning artworks or taking in a show at the theatre are not pastimes that you would enjoy, Clive says there are plenty of activities in which to get involved especially if you love food.
"Abu Dhabi may not be a big city but it gives off a big city vibe. Everything that you could wish for or need in terms of sporting, family activities, nightlife and hospitality is within a short drive but there are no chaotic traffic jams to experience."
"It is a great city if you are a foodie. You can find every cuisine in the world here. If you ever find yourself in the Tourist Club Area (Al Zahiyah), just choose a cuisine and you will be sure to find a restaurant to match your choice and enjoy.
"I also love the many places of interests and things to do around the city in terms of leisure, fitness, sport, family activities and Abu Dhabi also has some great beaches. My family and I try to be involved in many activities as it is a great way of making friends and meeting new people."
For many expats moving abroad, building up a support group is crucial in the first couple of months to help out with any issues or needs that you may have. Clive highlights that for his family and himself, the children's school was a superb place to meet new people and friends.
It does take time to make friends but that is always the case of moving to any new city. A key aspect for myself and my wife was many of our friendship groups were established through our kids and through school. The schools are central pillars to building communities and it is something I really like about Abu Dhabi.
"My kids love their school and if I suggest moving and going to a different country, they shout at me because they want to stay here because of their school. They are getting a truly global education from quality teachers as well as learning lessons that will prepare them for life in the future. My kids are really happy in school and in Abu Dhabi."