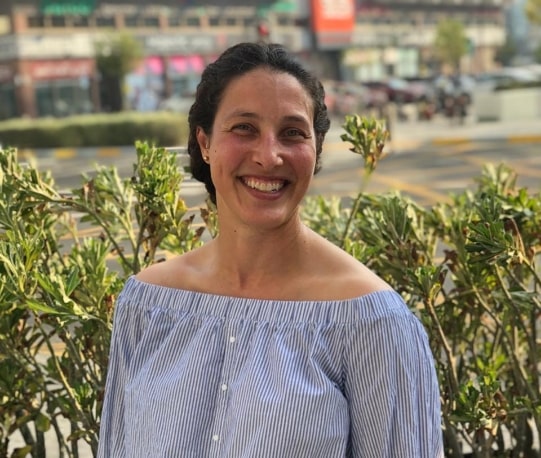 Marketing, Communications & Customer Service Manager at Zayed Sports City
My advice to anyone moving to Abu Dhabi is to say yes. Make it a year of yes. When people invite you to events, say yes and approach everything with curiosity.
"When I arrived in Abu Dhabi in March 2011, it was my first time being outside of the USA. We had family friends who were already here and based on what they told me, I was very excited."
There is a degree of leaping into the unknown for anyone making the huge decision to move abroad but based on friends' recommendations, Christine Hecht travelled to Abu Dhabi with great hopes of experiencing a new and improved way of living and after 11 years, and she says with confidence that Abu Dhabi has lived up to expectations.
"The city offers a lot of options for trying new things and meeting new people. I've become really active since moving here. I take personal training sessions at a gym that I love, and I started karate, learned to sail and ran my first 5k. My friends and I are always out for walks in different neighbourhoods throughout the city. There is a lot to learn and explore in Abu Dhabi."
While broadening her interest range as well as keeping active and healthy, Christine finds an added benefit of the wide array of sports that Abu Dhabi has to offer is the opportunity of meeting a huge range of diverse people and characters.
"What I found is when you find an activity you like, you can find people to create friendships with. It is important to take that first step of joining a club or meeting the neighbours. I've made really fantastic friends who are very supportive of each other. Everyone seems open to expanding their connections here."
However, if you are not the sporty type, Abu Dhabi still has plenty to offer, says Christine. "One of my favourite places to grab a coffee, read a book and watch the world go by is the Al Qana project that recently opened. The National Aquarium is fantastic, there are a lot of restaurants and cafés, and the setting is gorgeous. For a place to reflect and enjoy some quiet, Wahat Al Karama is so special. I also love seeing the Sheikh Zayed Grand Mosque on my drive to work. It's awe-inspiring every time.
"The Government takes great care of the citizens and expats. The culture is so inviting and so accepting. I really believe that the local culture is everyone's culture together."
When you take the big step to make Abu Dhabi your new home, Christine has a simple piece of advice to offer you for your first year; say yes. "Make it a year of yes. When people invite you to events, say yes and approach everything with curiosity. Approach the foods, the language, the cultures with a real willingness to try and be really willing to make your own opinions over time as you experience it rather than base them on what you hear before you come."